Creating the Next Generation of Scholars in Child Maltreatment Science
(T32 Training Grant, NICHD)
---
Purpose
The purpose of this T32 – Training the Next Generation of Scholars in Child Maltreatment (CM) Science is to provide a comprehensive and multi-level training program using a transdisciplinary approach that includes preparation in the multi-faceted issues in need of research to advance the field of CM. 
Specifically, the proposed training program will provide integrated training in biological embedding, developmental processes, prevention and treatment, and policy and administrative data systems. Along with a topical focus, the training will incorporate training in CM research ethics, innovative CM science methods, community engagement, and translation of policy to practice components so that trainees will be in the best possible position to effectively contribute to advancing CM science. 
Leadership and learning are indispensable to each other.
To effectively address CM, the next generation of researchers need to be capable of embracing the complexity of CM through participation in transdisciplinary training approaches that transcend the current siloed nature of research and training. This requires a state-of-the-art integrated topical training model to effectively translate what is learned into practice and policy. The proposed CMT32 at Penn State is indeed this very training. 
Penn State is in the unique position to meet this need through its 2013 launch of the CM Solutions Network (CMSN)—a cluster-hire of 11 faculty who work as a transdisciplinary team to combat the complex problem of CM across 5 Colleges; Health & Human Development (Departments of Human Development & Family Studies and Biobehavioral Health), Education, Liberal Arts (Departments of Psychology and Sociology/Criminology), Nursing, and Medicine. 
The T32 training program will fully benefit from the CMSN faculty and the Penn State P50 Translational Center for Child Maltreatment Studies (TCCMS) funded by NICHD. The training is a comprehensive, multi-level and transdisciplinary training program that takes full advantage of the design, infrastructure, and mission of the CMSN and the TCCMS.
The table below outlines trainee goals and the different components of each goal.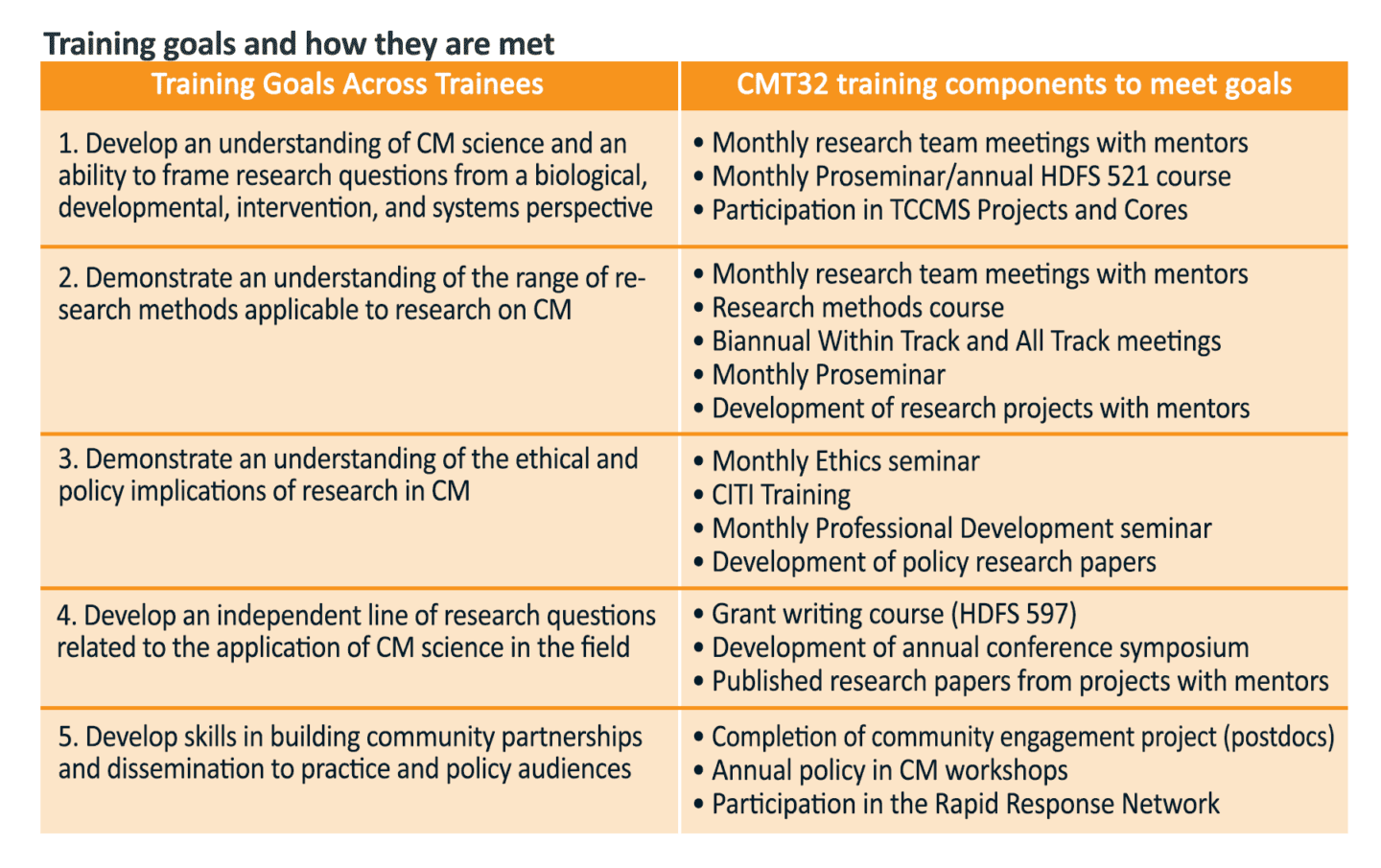 Training Tracks
Pre and postdoctoral trainees will choose from four training tracks as their primary area of study. Trainees will also choose a secondary track to enhance the transdisciplinary nature of their experience.  Applicants please review the list of secondary mentors for your training track affiliation. Applicants should indicate one primary training track of interest along with a preferred primary mentor, and a secondary track(s) along with preferred secondary mentors from that track.
BE - Biological Embedding Track
BE Track Lead – Hannah Schreier 
Primary mentors – Hannah Scherier, Erika Lunkenheimer, Idan Shalev, Chad Shenk
One of the most important challenges for researchers focusing on the biological embedding of CM will be to better understand the complex ways in which multiple key physiological systems act in tandem to shape the lifelong health trajectories of CM survivors. A substantial literature already links CM to increased risk of cardiovascular disease, obesity, diabetes, lung cancer, chronic pain, headaches, sexually-transmitted infections, autoimmune diseases, and all-cause mortality later in life. In addition to research on distinct health problems, the field is also beginning to understand the ways in which CM alters some of the physiological mechanisms that, in the long run, may result in these increased morbidity and mortality rates. The CMT32 will provide trainees with the opportunity to study these very questions, including via the TCCMS prospective cohort study of 1200 youth who experienced CM and matched comparison youth without a CM history. Additional opportunities include other R01/21 projects led by Program Faculty addressing different ways in which adverse experiences 'get under the skin' to impact neuroendocrine regulation, inflammation, brain structure and function, telomere erosion, polygenic risk, and the interplay of endocrine, immunological, epigenetic and metabolic influences on adult morbidity and future models of resilience and reversibility efforts. As part of their training, trainees will have the opportunity to be involved in human subjects research as well as hands-on bench science in associated laboratories.
DP - Developmental Processes Track
DP Track Lead – Erika Lunkenheimer 
Primary mentors – Erika Lunkenheimer, Jennie Noll, Yo Jackson, Carlo Panilio, Hannah Schreier
CM creates disruptions to the normative life course and contributes to failures to achieve skills or resolve key components of major developmental stages throughout the lifespan. These disruptions increase the likelihood that patterns of maladaptation, psychopathology, and other impairments due to CM will develop and persist, creating a cascade of negative sequelae for subsequent developmental stages. CM tends to recur over time, making a developmental approach to the timing and course of CM essential in understanding its effects. Accordingly, to improve scientific knowledge on CM, developmental scientists in the study of CM will work to model the process of CM incidence, the cascading effects of stage-salient disruptions, and the heterogeneic variation in pathways of CM with appropriate developmental theoretical frameworks and sufficient ecological and measurement validity. Examples of integrative, emerging research areas within the context of development that the CMT32 will provide include having trainees participate in projects (such as the TCCMS Cohort Study) on the systemic longitudinal effects of CM on caretaker-child relations, the intergenerational transmission of trauma and maltreatment within families, the nature and scope of heterotypic development in youth exposed to CM, and the potential moderating or mediating effects of services and community factors; all of which require a developmental lens to better understand the impact of CM on the developing child and his/her environment.
PT - Prevention and Treatment Track
PT Track Lead – Chad Shenk
Primary Mentors – Chad Shenk, Yo Jackson, Brian Allen, Kent Hymel, Jennie Noll, Sheridan Miyamoto, Christian Connell
The Prevention and Treatment Track provides innovative training in child maltreatment interventions across preventive and treatment settings. Trainees will receive instruction in: 1) well-established child maltreatment interventions, including the Nurse-Family Partnership, Parent-Child Interaction Therapy (PCIT), and Trauma-Focused Cognitive-Behavioral Therapy (TF-CBT), 2) identifying and engaging intervention targets across multiple levels of analysis (e.g. biology, behavior, family, community ) within the experimental therapeutics framework, and 3) executing gold-standard as well as innovative methods for evaluating child maltreatment interventions, including randomized clinical trials, factorial designs, and sequential multiple assignment randomized trials. Extending beyond the classroom, trainees will work on projects that include partnerships with the State of Pennsylvania on the testing and dissemination of a prevention program aimed at reducing actual cases of alleged and substantiated child sexual abuse, the optimization of treatments for mental health disorders by evaluating the effectiveness of individual components in engaging transdiagnostic mechanisms of comorbid disorders, novel applications of PCIT and TF-CBT to improve child and family outcomes, and program evaluation with County and State administrative data to identify cost-effective preventive strategies for families at risk for child maltreatment. Extensive collaboration across the training tracks will allow for a transdisciplinary perspective designed to speed translation of research findings from one track to the settings where children who have been maltreated most often access care.
PADS - Policy and Administrative Data Systems Track
PADS Track Lead – Christian Connell
Primary Mentors – Christian Connell, Sarah Font, Max Crowley, Sheridan Miyamoto
Children impacted by CM and their families are frequently involved in myriad of systems including child welfare, physical and behavioral health care, juvenile and adult corrections, education, and other public systems. This complexity requires that CM researchers develop expertise in systems-focused research methodologies that leverage complex and integrated administrative data systems to elucidate individual, family, and contextual processes leading to maltreatment exposure and its effects, provide more accurate means of detection and prediction of adverse outcomes, and also provide a means of empirically testing the efficacy of treatment and intervention response to maltreatment.90-92 These advances are critical to developing more effective evidence-based policies and practices to prevent CM or ameliorate its negative effects on children and youth. The T32 will provide trainees with a range of opportunities to develop expertise in these methods. Participating faculty have extensive experience in the use of administrative data to conduct rigorous, policy-relevant research across child welfare and other public systems. Trainees will engage in the design and conduct of research using complex integrated and administrative data through active research projects with core faculty via the TCCMS and other R-level projects. Trainees will have access to a wide range of local, state, and national administrative data systems maintained in the Penn State Administrative Data Accelerator including child welfare systems, health care, juvenile justice and corrections, and other child and family serving systems.
Mentors
For applications – applicants need to indicate several primary (2-3) and several secondary (2-4) possible mentors whose work best fits the applicant's training interests – the interest in those mentors should be detailed in the statement of interest and training goals (see links on the left). The mentors identified should reflect the applicant's interest in at least 2 different training tracks.
Once selected for the fellowship – fellows will work with 1 of the primary and 2 of the secondary mentors indicated in their application. Trainees will have a mentoring team based on the group of mentors selected and will work in multiple labs across their preferred training tracks.
---
How to Apply
See our how to apply section for more information about predoctoral and postdoctoral candidates.
Please email yjackson@psu.edu for Predoctoral candidate deadline information.
Postdoctoral candidate application deadline is January 15, 2021
All materials should be sent to the Director of Training, Yo Jackson, Ph.D, ABPP yjackson@psu.edu