Creating the Next Generation of Scholars in Child Maltreatment Science
(T32 Training Grant, NICHD)
---
Purpose
The purpose of this T32 – Training the Next Generation of Scholars in Child Maltreatment (CM) Science is to provide a comprehensive and multi-level training program using a transdisciplinary approach that includes preparation in the multi-faceted issues in need of research to advance the field of CM. 
Specifically, the proposed training program will provide integrated training in biology & health, developmental processes, prevention and treatment, and policy and administrative data systems. Along with a topical focus, the training will incorporate training in CM research ethics, innovative CM science methods, community engagement, and translation of policy to practice components so that trainees will be in the best possible position to effectively contribute to advancing CM science. 
Leadership and learning are indispensable to each other.
To effectively address CM, the next generation of researchers need to be capable of embracing the complexity of CM through participation in transdisciplinary training approaches that transcend the current siloed nature of research and training. This requires a state-of-the-art integrated topical training model to effectively translate what is learned into practice and policy. The proposed CMT32 at Penn State is indeed this very training. 
Penn State is in the unique position to meet this need through its 2013 launch of the CM Solutions Network (CMSN)—a cluster-hire of 11 faculty who work as a transdisciplinary team to combat the complex problem of CM across 5 Colleges; Health & Human Development (Departments of Human Development & Family Studies and Biobehavioral Health), Education, Liberal Arts (Departments of Psychology and Sociology/Criminology), Nursing, and Medicine. 
The T32 training program will fully benefit from the CMSN faculty and the Penn State P50 Translational Center for Child Maltreatment Studies (TCCMS) funded by NICHD. The training is a comprehensive, multi-level and transdisciplinary training program that takes full advantage of the design, infrastructure, and mission of the CMSN and the TCCMS.
The table below outlines trainee goals and the different components of each goal.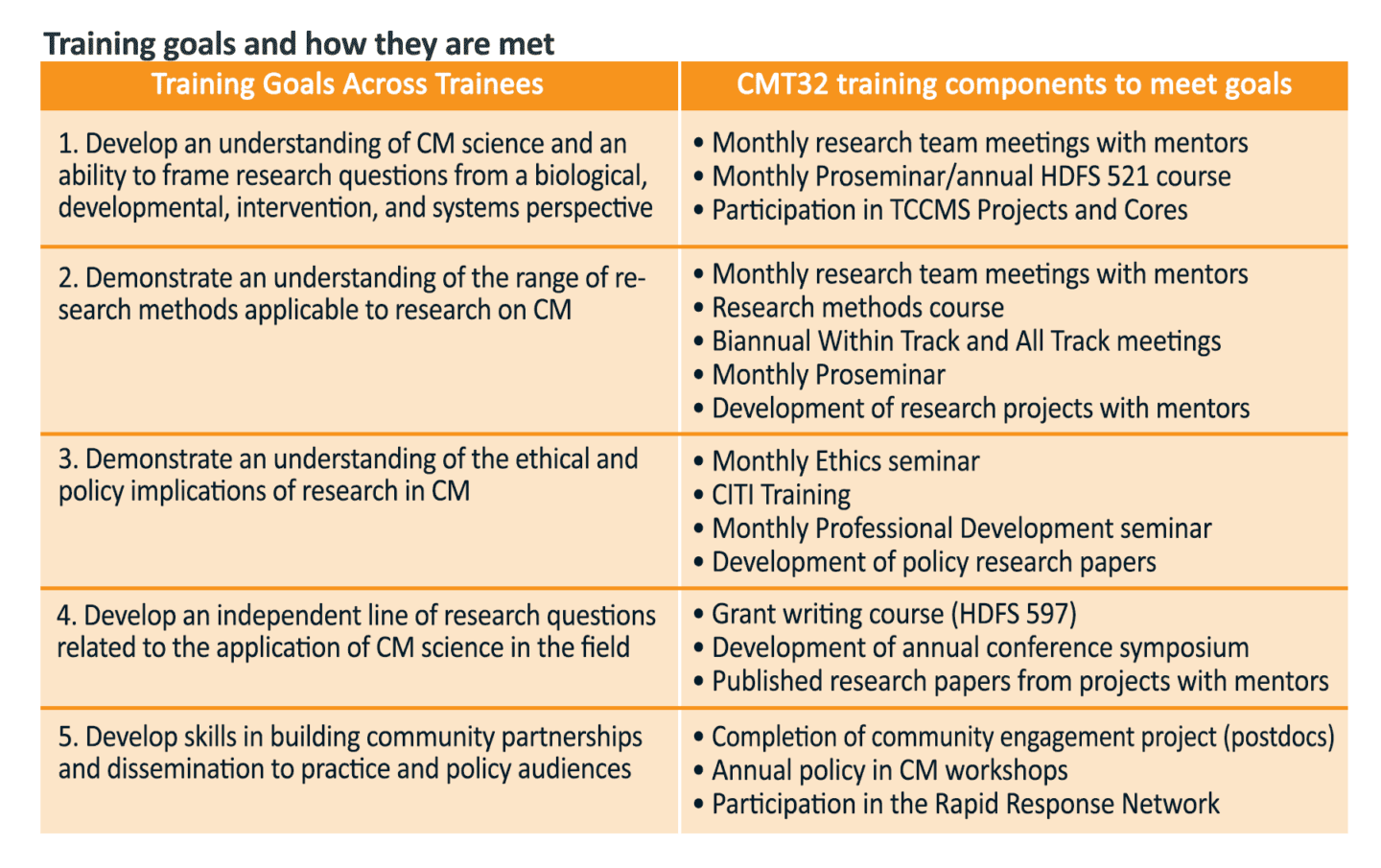 Training Tracks
Pre and postdoctoral trainees will choose from four training tracks as their primary area of study. Trainees will also choose a secondary track to enhance the transdisciplinary nature of their experience.  Applicants please review the list of secondary mentors for your training track affiliation. Applicants should indicate one primary training track of interest along with a preferred primary mentor, and a secondary track(s) along with preferred secondary mentors from that track. 
Mentors
For applications – applicants need to indicate several primary (1-2) and several secondary (2-3) possible mentors whose work best fits the applicant's training interests – the interest in those mentors should be detailed in the statement of interest and training goals (see links on the left). The mentors identified should reflect the applicant's interest in at least 2 different training tracks.
Once selected for the fellowship – fellows will work with 1 of the primary and 2 of the secondary mentors indicated in their application. Trainees will have a mentoring team based on the group of mentors selected and will work in multiple labs across their preferred training tracks.
---
How to Apply
See our how to apply section for more information about predoctoral and postdoctoral candidates. 
All materials should be sent in one combined PDF to the T32 Administrator Kimberley Ducato at kdd5024@psu.edu.  
All questions should be directed to the Director of Training, Yo Jackson, Ph.D, ABPP at yjackson@psu.edu.